Eclipse Speedway 32" Update Thread​
"The lawnmower that is more like a car than a yard tool" ​
​
Thought I'd do a little show and tell of my newest addition, an Eclipse 32" Speedway reel mower.
I had the opportunity a few months back to add another reel mower to the collection and decided that I'd see if I could find an Eclipse Speedway in particular as they had always really caught my eye. There is a neat little website out there dedicated to these mowers in particular that is fun to visit found here:
http://www.angelfire.com/planet/eclipsereelmowers/
I was prepared to have whatever I found shipped as finding one of these in the same state was going to most likely be a pretty slim chance. Some research pulled up a group of owners talking about them on a different forum and I basically put name out there and told them to contact me if they ever wished to sell. A month later, somebody from Colorado contacted me back stating they were interested in selling their machine. After some discussion back and forth and viewing the provided photos, it was apparent that it was in great original condition so after agreeing upon a price, I bought it.
I created a shipment on usip.com and found a husband and wife ran shipping buisness that I decided to go with who was based out of right near where I lived. The funny thing was that they were not only based out of Washington State in the same area where live, but were going to be traveling through Colorado the very same week that I had bought the mower! The timing and everything couldn't have worked out better. The shipment took less than two weeks and it came completely undamaged, they did a great job loading and unloading it and treated it with care.
To give you a little background on this specific mower, it is a 1958/59 model and had been in the fellow's family for the past 45 years, pretty much all of it's life. He explained that he used to mow his family's estate with it when he was a kid and that it had not been started in 15 years. After recieving the mower and going over it, the condition was in even better shape than I had anticipated which was a plus, and it did not take much to get it running. The engine, a Briggs 14R6, had a healthy spark and the carb and gas tank where clean, so after a tune-up and going over, it fired right up as you will see in one of the videos below. So far since I've had it, I've cleaned it all up and have been in the process of having a new identification tag made for it as the original is missing. I'm contacted a company that specializes in making trophies & plaques who will be able to create a new one made out of metal to resemble the original from a reproduction paper decal template that I bought off Ebay. This time, unlike the original, will be riveted to the mower.
The mower itself runs and opperates flawlessly almost as if it were new new and is sure a lot fun to use. I've trailered it up to a friends house who owns a Locke Tri-Plex and we mowed his property with each of our antique mowers. It was sure a lot of fun and we both really enjoyed trying out and admiring each other's machines. For now, the mower is going to remain all original and unrestored as I want to enjoy it in it's original work clothes for a while. It in the future it will recieve a full tear down and restore.
Below are pictures including the one's the seller sent me in the beginning as well as a copy of an original ad and some different videos of it too along the way.
Enjoy!
These next three were the ones the seller sent me.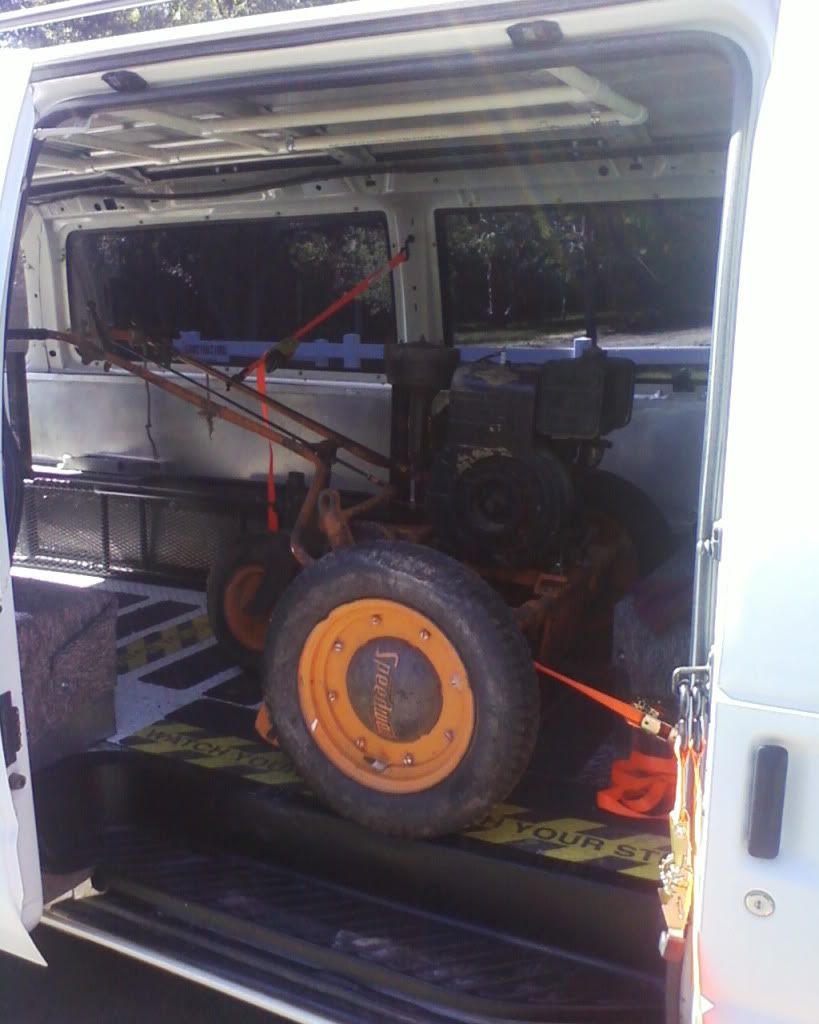 This photo was provided to me via the seller after he got all loaded it up. Oh the anticipation after seeing that photo...
Below you will see the photos of it getting unloaded. First time seeing it in person too! I couldn't get over it's size and it was quite a beast to see hung in the air like that!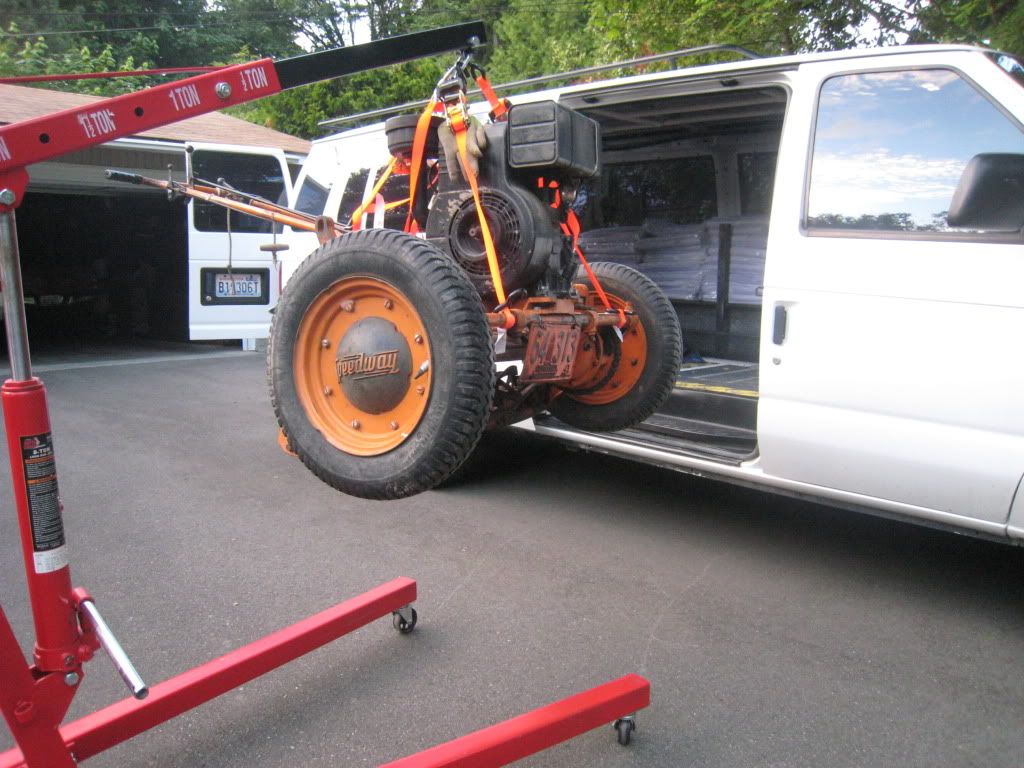 The next set were taken the next day after I got her all cleaned up.
Here is a couple of videos. The first one, 'First Look', is just walk around and explanation. The second video is the first start.