Discussion Starter
·
#61
·
O.K., grab some pop corn and sit back, it's time for that boring slide show of vacation photos. I picked out just a few. Judy said we took somewhere around 500 on just the camera, not counting the phones too.
I might have shared this one before, but it's a favorite of mine. We were headed back to the campsite from Clingman's Dome in the Smokeys, and the sun was setting.
We visited Cades Cove while there. A spectacular place for sure. Seeing the cabins and all that the pioneers did makes me feel not quite so proud of being able to cut a 2X4 square with a miter saw!
Here I am getting ready to trek across the Appalachian Trail:bag:
One of the places we visited outside of Charleston, SC was the Charleston Tea Plantation. It is the only place in North America where tea is grown. The day we were there they were trimming the plants to get them into the growing mode for the coming season. They use a modified Ford tractor with a Woods, brush hog mower to cut them all at the same length. Probably the most unique mower set up I've ever seen.
Also near Charleston is the Angel tree. A living oak tree that is estimated to be at least 400 to 500 years old! Look closely and you see people standing near the trunk to give you an idea of it's size. Some of the limbs are somewhere around 100 foot long.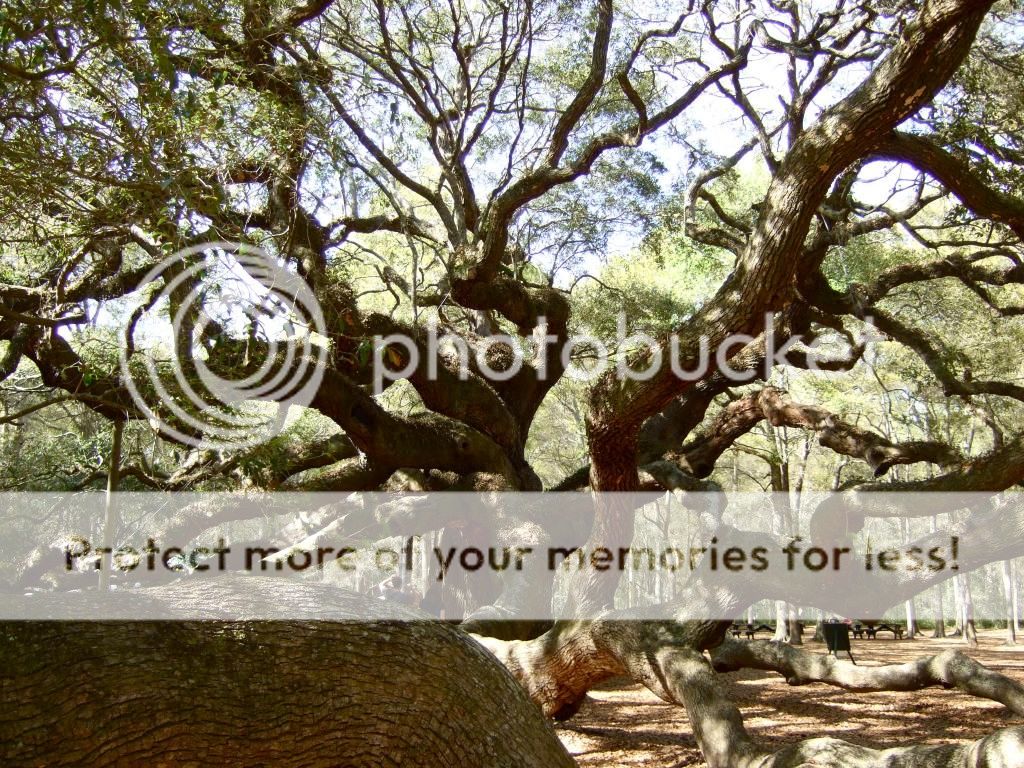 Downtown Charleston, SC is absolutely beautiful. This is on King Street.
There are beautiful gardens everywhere. This is in the cemetery next to the Unitarian Church.
Judy is enjoying this one is outside a home in the historic section of the city.
Some of the best beer and by far the best BBQ we had was at the Holy City Brewing Company, and at Fiery Ron's Home Team BBQ.
From there we headed down to the S/E corner of Georgia and stayed in the Crooked River State Park. All the sites were great, and the park was beautifully maintained by a terrific staff of employees and volunteers.
We stopped off at the Palace Saloon in Fernandina Beach, FL, the oldest tavern in Florida. Here's the resident pirate trying to pick up Judy for a date. Their specialty is something they called Pirate's Punch, a mix of seven different rums. More gimmick than good, unless you really like rum, I suppose, but you get a souvenir cup.
Had to go stick a toe in the Atlantic while there too.
Went to St. Augustine, FL and looked at some of the awesome sites there. Of course, the fort is amazing.
We got to witness a firing of the cannons while there. Really interesting to watch. They are all volunteers who do this, dressed in period costume, and all of the orders given by the person in charge are done in Spanish.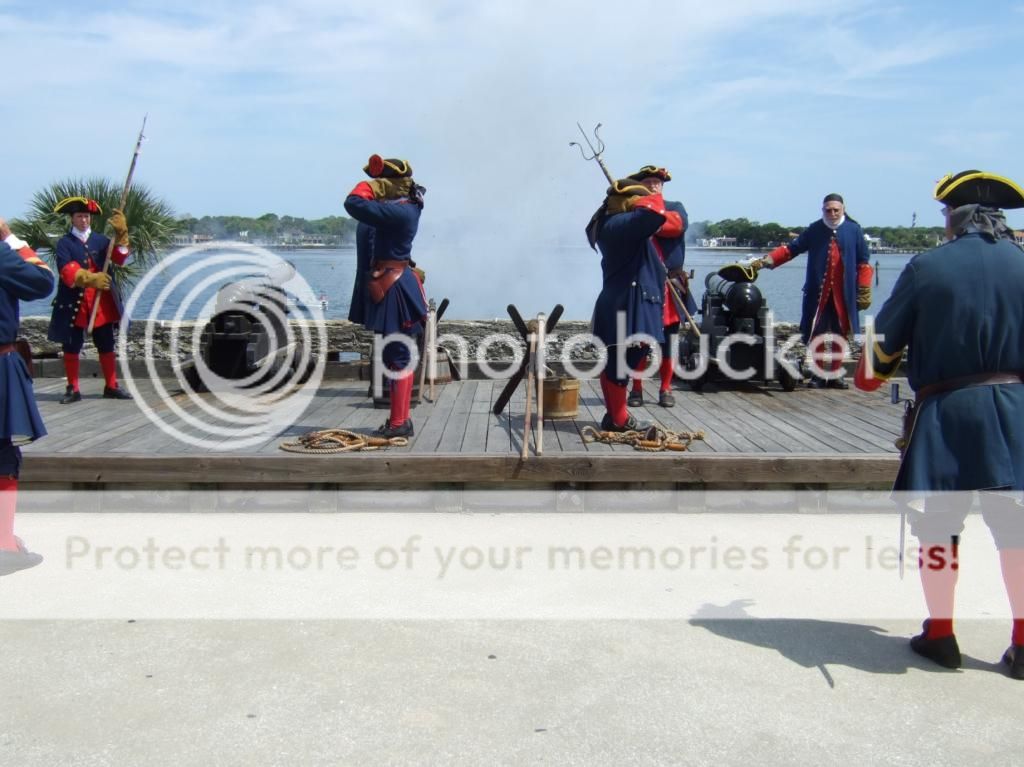 There was a Spanish galleon in port at the time, which was very neat to see, and added to the historic air of things there.
Went over to Panama City Beach. Judy stopped to talk with one of the local fishermen on the dock at St. Andrew's Campground one day.
Judy took a couple of pictures of me in the Gulf of Mexico, but I figured some folks might be getting ready to eat dinner, so I didn't want to cause any indigestion.
On the way back up north, we stopped at Elvis' birthplace in Tupelo, MS. I took a break in the front porch swing.
When we got back into Illinois, we stayed at the Giant City State Park, which is in the Shawnee National Forest. If there is a jewel in Illinois, it has to be that park. Seems the glaciers that flattened the rest of the state out flatter than a table, stopped just short of the southern tip of what is now Illinois, and piled a whole bunch of rock formations up leaving us with this really beautiful area. The park is called Giant City because of some of the formations that look like the streets and tall buildings found in today's modern cities.
On interesting feature there is a crevasse called Fat Man's Squeeze. Evidently you can squeeze yourself up through the thing and come out on top, if you're so inclined as to try. There was a sign at the visitor center that said it was closed because the snakes were just coming out of hibernation. Yeah, well, maybe some other day I'll try, but it didn't slow these kids down.
Everywhere we went, we saw evidence of the work of the CCC, the Civilian Conservation Corps. From trails to buildings and structures, we have a lot to thank for their work. One of the finest examples it the Lodge at Giant City.
If you're ever there, you've got to have their all you can eat chicken dinner in their restaurant. It was to die for.
Sort of looks like I might have a problem, but I like to collect glasses from the different micro breweries I visit. I came back with a few.
Hope you enjoyed these pictures. There are so many more I could show, but I'll cut it off here. I can't say enough about how much fun we had. The weather was fantastic for nearly all of the trip, only raining on us one night. It started out to be a BBQ and beer trip, but as we got closer to the coast, we had to add sea food in there as well, and we didn't have one meal that was bad anywhere along the way. The folks we met were interesting and fun to talk to, and the sights, well, like I said earlier, this is a great country we live in, and there is no way anyone could live long enough to see it all, but darned if Judy and I aren't going to try.
Life really is good.