Discussion Starter
·
#1
·
Hi,
Appologies if this is in the wrong category, it seemed the most appropriate.
I have a 2yr old Racing (that's the brand name, not what I my lawnmower use it for) RAC5614F self propelled lawn mower which gradually stopped moving.
So I guessed the belt was worn and slipping so I ordered a replacement Z838 belt from the company recommended by the lawnmower manufacture and fitted it. While I had the old belt off I cleaned both the engine traction pulley and the transmission pulley but they weren't too bad.
Same problem, still doesn't move... BUT If I lift the rear wheels off the ground and pull the traction lever then the self propelling system works fine and the wheels go round and stop when I release the lever (so I don't think the cable tension is a problem).
When I look underneath the lawnmower with the engine running and the traction lever engaged the belt looks very lose as if the belt is not tensioned but I can't find anywhere to adjust the belt tension.
According to this website there is a tension pull but I'm unable to adjust anything when I losen it.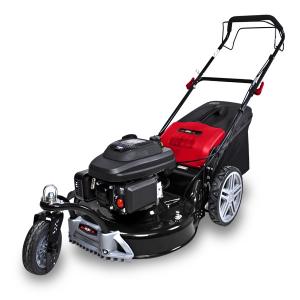 Petrol lawn mower 196 cm³ 56 cm - self-propelled RAC5614F - SWAP-europe.com
swap-europe.com
Any suggestions?
Do I just need to be more agressive with this tension pull?
Thanks in advance,
Richard