New stable mate!
I remember seeing the Hyper for the first time at the 2007 Seattle Intl. motorcycle show after they were first unveiled state side, sitting it amongst a crowd of people and thinking it was the coolest bike in the world. Ever since, I made a genuine promise to myself that I would own one of them someday later in my life- even if it meant that it wouldn't be for a very long time.
Fast forward five years later, I decided to finally start looking for my dream bike over this past summer. Because this purchase was going to be extra special, it needed to be the right bike that was the right color, had the desired mileage and choice of some particular accessories which meant broadening the search country wide. Unlike my previous bike purchases where they have always been completely stock from the get-go, it was important to me to find one that was already setup up with a couple of choice accessories installed in particular as it would've been a very long time before I came anywhere near ever being able to justify the cost of them. Any Ducait accessory, or aftermarket accessory for that matter, is over the top expensive. The average motorcycle oil filter for example costs $4.99, the Ducati unit however runs over $20 so as you can see; something like a full exhaust system etc is almost like funding a whole new bike in itself. Something that I would have a hard time justifying down the road, if ever!
I located this one that was at a dealership in Minnesota that matched the description of what I was looking for to a T. I contacted the dealer with questions and it turned out that it came in on trade from its original owner, a friend of the dealer's owner (who I dealt with) so he was able to give me the scoop about the bike's history, how it was maintained etc etc. After seeing many detailed close up shots and having it described to down to the dirt on the tires, I was rest assured that it was in "like new" condition so I decided to pull the trigger. After the transaction, about a week later the bike was picked up from the dealership by MotorcycleShippers.com and it made the journey to Washington State. The entire process from beginning to end took about a month.
Like it happened with my last bike, I got it right at the time riding season ended around here so there's going be very few rides 'till next spring when I can really get out and enjoy it. It is definitely the most outrageous and unreal piece of machinery that I've ever ridden- by far. I had never ridden a Ducati before so other than having a mental idea gathered from magazine reviews and forums, I didn't really know what to expect. The best way describe the overall feeling, it without a doubt would have to be character and shear adrenaline. It's the spinning dry clutch clatter at your right leg that at stoplights draws onlooker's attention into thinking that something is seriously wrong with your bike and the brutal acceleration that makes you feel as though being shot out of a canon really hard is what defines it. It is truly like riding a caged beast.
I quickly learned that it can be ridden modestly without the feeling of it trying to kill you, but even from the little saddle time that I've had with it so far, I can already tell that it is definitely the most unforgiving bike I've ever been on either. There is no doubt it would give you the "I told you so" when it bit. Riding it modestly though is most definitely not what was meant to do as it really feels like a beast wanting to let out of its cage and getting it to that point does not take any work at all. The power and torque is phenomenal and you better have a long stretch of road and have a good hold of the handlebar when you give it some wrist. Thank goodness for the step seat to hold you in place! Surprisingly for an air cooled V-Twin it is remarkably one of the smoothest bikes I have ever ridden. I was prepared to deal with vibes, but they are pretty much nonexistent other than in the higher rpm's where you might see them a little in the mirrors. Even compared to my Z1000 with the inline 4, this is smoother which is pretty remarkable and makes the bike feel very refined.
The biggest thing that will take getting used to particularly on this bike is the steering. It has the quickest steering of any bike I have ever ridden, even more than the supermotos that I have had. The riding postion places you almost directly over the front wheel so turn in is almost non exisistent it's that quick. The best way to describe the steering is kind of like riding a unicycle compared to the steering of a bicycle, your average m/c in this case as steering is much more direct and quick. Unlike a bicycle, you don't wait for it to begin turning, it already is. It will take some practice to learn how to ride it in that sense and how to properly take clean lines through the corners and when to apex etc as it reacts a bit differently than your average bike in that area.
After I get a proper camera that is actually worthy enough of Ducati pictures, I will get a justifiable clip of the exhaust as it is out of this world. It is definitely not loud abnoxious, I know what that is, it is a very thunderous (NOT Harley) sound that gives you the impression that a pack of muscle cars are behind you.
Specs:
'08 Hypermotard 1100S
Full 2-1 Termignoni exhaust system
Open intake
Race ECU
STM Clutch kit w/ vented cover
Ballistic dry cell battery
DP racing step seat
DP Tailtidy
Various DP carbon fiber accessories
Shorty levers
Speedymoto axle sliders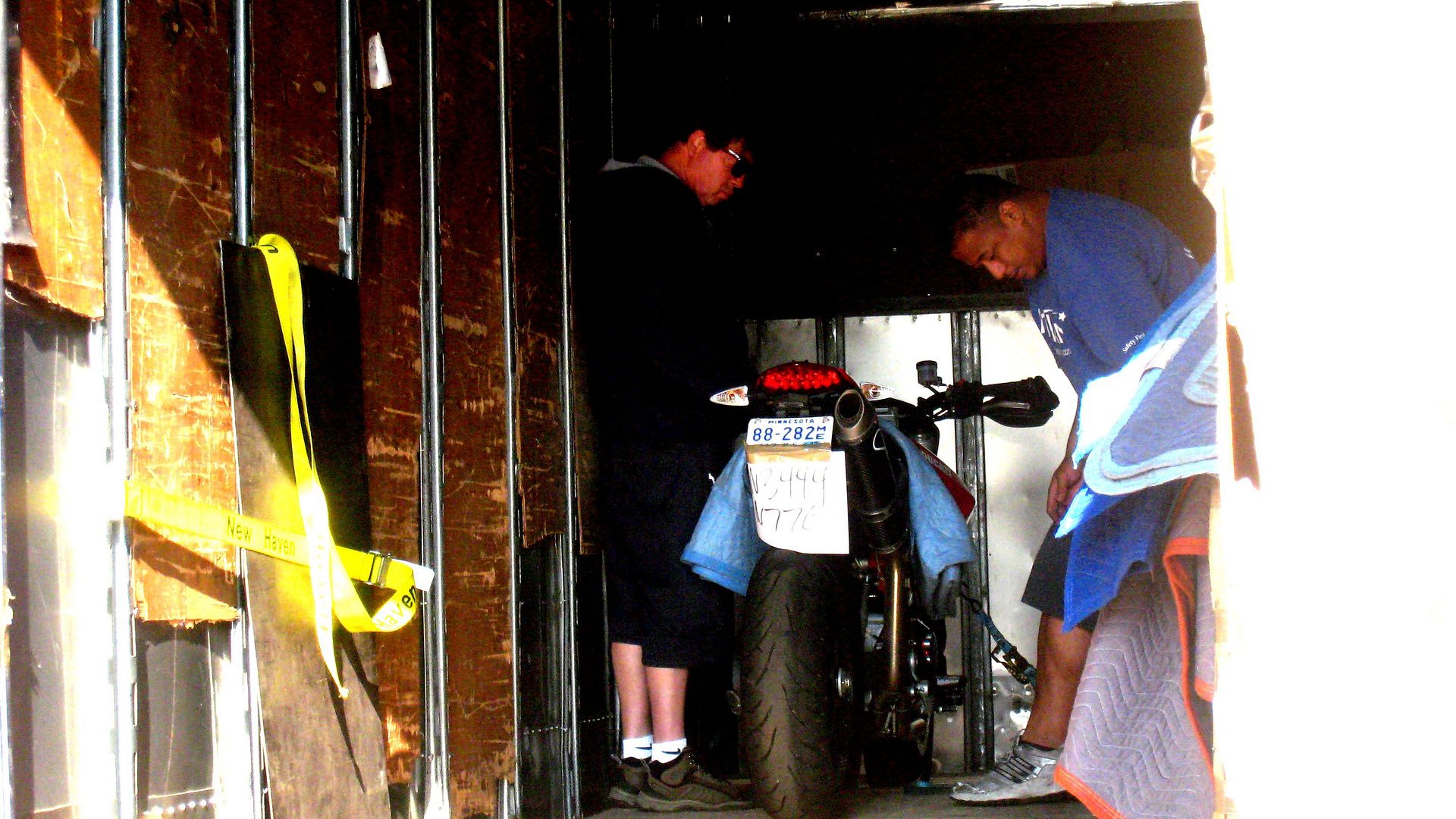 Seeing it for the first time!
Safe and sound.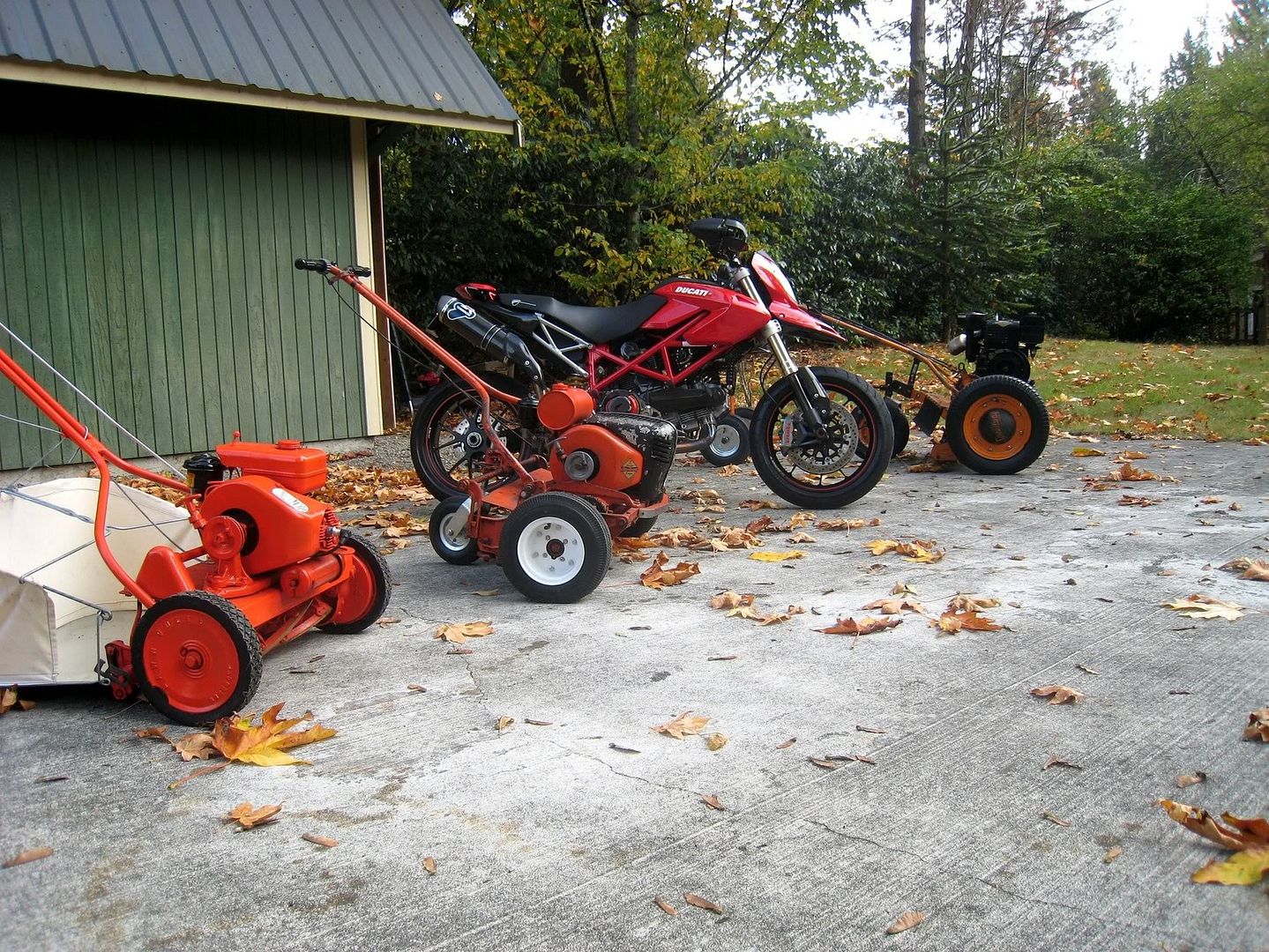 Getting formly acquainted of course.