I recently bought this "new to me" blower and thought I'd do a little show and tell review of it!
This all started while I was filling in for the public works director last month at the small town that I work while he was on vacation. The town had recently bought a brand new Stihl BR600 blower that hadn't been used yet all of which you could say, I had the enjoyment of breaking in. I have had some hands on experience with these particular blowers when I worked at a John Deere dealer as a teen and used to set them up straight out of the box, however never actually used one as they were intended for so this was a real treat. The thing had POWER, so much in fact that when you hit the throttle, it made it hard to even walk forward or stand as soon as the tube came anywhere near the ground. Comparing this real blower to my puny Homelite backpacker was no comparison at all. It was like you could just stand in one spot almost and blow whatever you wanted anywhere. I was sold.
I have had two Homelite blowers, one a backpack and the other a hand held which I've had for many many years that's had a ton of usage and amazingly won't die. The backpack which I got a few years ago as a gift was a nice blower, but it would refuse to start anytime it was cold and it recently just lost spark completely for some reason. The carburetor was one of those non-adjustable EPA mandated types, so not much could be done to help correct cold starting matter either. Since I was sold on the idea of a commercial grade blower but didn't want to spend $600 on a brand new one, I through a few searches out there on Ebay and CL for fun and noticed that a lot of them were selling the same or cheaper than what it would cost to buy a brand new home owner type blower that is a lot less powerful. However, the majority of the used ones obviously came out of landscaping companies and had seen a lot of use and abuse. I figured that it wasn't too much to lose and would be fun to own one of these big commercial grade units if I could find one in decent shape.
Experiment?
This brought up the opportunity, or experiment if you will, of how a used commercial grade blower that's in fair condition would hold up for homeowner use compared to a new residential, box store type.
I'm Through With the Homelite
Well, I decided I was done with my cheap Homelite backpacker so I listed it for 'parts or fix' and ended up selling it for a decent profit to a gardener who said he could repair it, thus put the cash towards a different one. I ended up coming across an Echo PB-755, the most powerful model they offered a few years ago, that an Ebayer had taken some good photos of which appeared to be in fairly decent condition and not held together by duct tape. I did a little research on the particular model and there didn't seem to be a lot of major problems or complaints with it, so after a couple of bids I ended up winning the auction. Had I been smart and planned a little further ahead, I would have purchased one of these earlier in the year when they aren't so much in demand and probably could have saved a little more.
The Machine
Itself
Cosmetically, it's in pretty good shape considering what it is, but there's no doubt that it's had seen its fair share of use. The seller boxed it up well, so it luckily arrived undamaged with no cracked or broken parts. Haha, I was really surprised while I was lifting it out of the box to see about a half a tank of gas sloshing around in it! Doesn't it go something like "are there any fragile, hazardous or perishable items inside?" when you're at the post office? Well…..
Anyway, It started easily and seems to have quite a bit of compression, I'm able to lift the whole blower off the ground just by lifting the pull cord and it takes a good yank to get her to spin up. It runs out well, seems to have a lot life in the motor and is even surprisingly quieter than I imagined it to be. During the first 5 minutes or so of use it had decent haze of smoke rolling out of back, but then slowly cleared all the way up. Maybe it hadn't been used in a while or something.
Was It Worth It?
Only time will tell. Overall, I'm pretty happy with it. It doesn't quite have the knock you off your feet thrust the Stihl has, but it is no comparison to my previous backpack and will easily cut the wet leaf blowing time in half than before I'm sure.
Here is the video portion along with the photos below.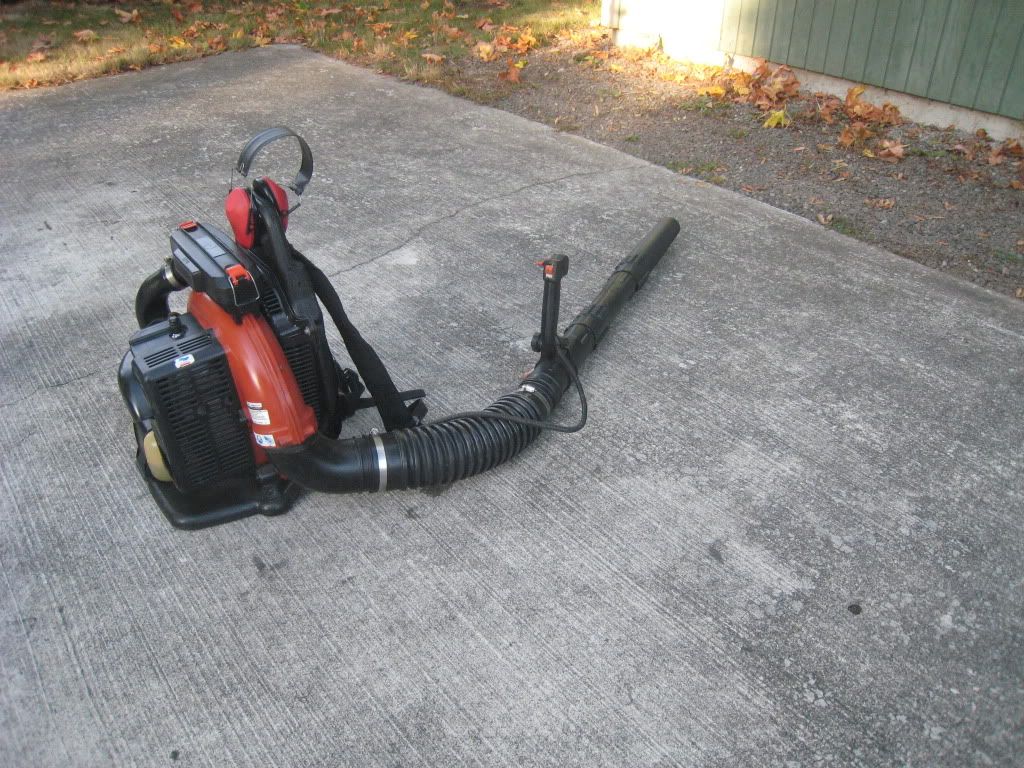 Tune-Up and Missing Tube
It was missing the last tube extension, so I had to purchase one of those separately. While I was at it, I also picked up a tune up kit while as the air cleaner needed replacing and the fuel filter and spark plug probably hadn't of ever been replaced either. Cheap parts fortunately, so still within budget.