Hello dear mowing enthusiasts and other owners of equipment of all types.
I've been tinkering around a bit (for 3 decades only), including in garden machinery, but only as an enlightened handyman.
My flash must go back to my first mowing around 1975 with a push mower (non self-propelled) WOLF, then later a self-propelled Honda 21. Obviously when I needed a mower I turned to a solid one capable of lasting a long time, I took an Honda HRD535 (1997 semi-pro 21", would be a HR?215 in the US) which was already 21 years old but which is doing well and even if some parts have become a bit rare to find or expensive if new, overall I think we gain in robustness and quality on the long run.
Like millions I have benefited for quite a few years from reading several forums for which I thank both the creators, the admins, and necessarily the community of those who share their solutions and those who share their problems !
It turns out that by (forced) luck i just got a Kaaz LM5360 HST PRO KXA (2006 21" hydrostatic trans cast alu deck kawa 6HP 144lb) not used for a few years, with an asking price not decently publishable without being lynched immediately by all the members of this forum (close to the price of the blade alone...). I almost finished refurbished it with little work and it is now in working condition 'quality built products are so much easier to repair!' ...
It was therefore time that I subscribe to this forum for best practices sharing across the pond, and more as I am in the old world (French but with ties to Ohio where I worked)
Hello everyone !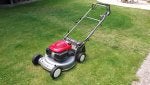 P.S. the Kaaz LM5360 has been produced for almost 30 years with little change and rebadged by various renowned global brands: Kubota W721, W821, SARP LM5360, ISEKI SW8210, ASUKA 5360, LAWNFLITE 553, DORMAK CR53, OREC GR537, DANARM, SHANKS 553, BARONESS GR530, COBRA M53, HUSTLER M1