The old girl arrived safe and sound have been spending the past couple of days getting acquainted with it in the garage. I finally fired it up and took it for my first ride today. If you'd like to get a firsthand experience of what it's like, then you can read my review below after the pics.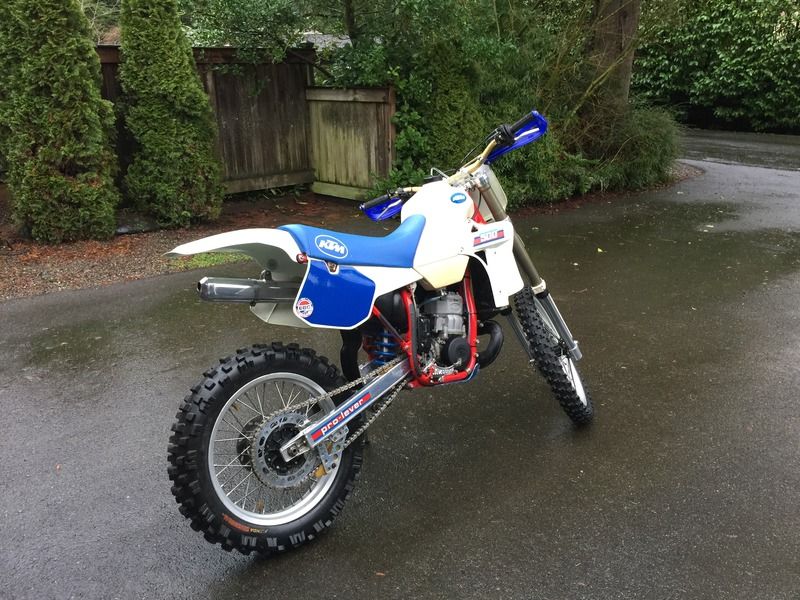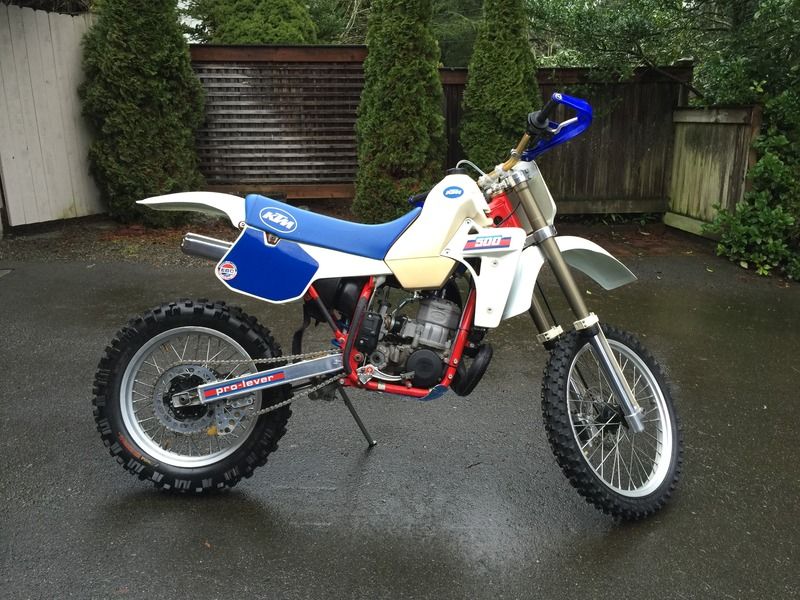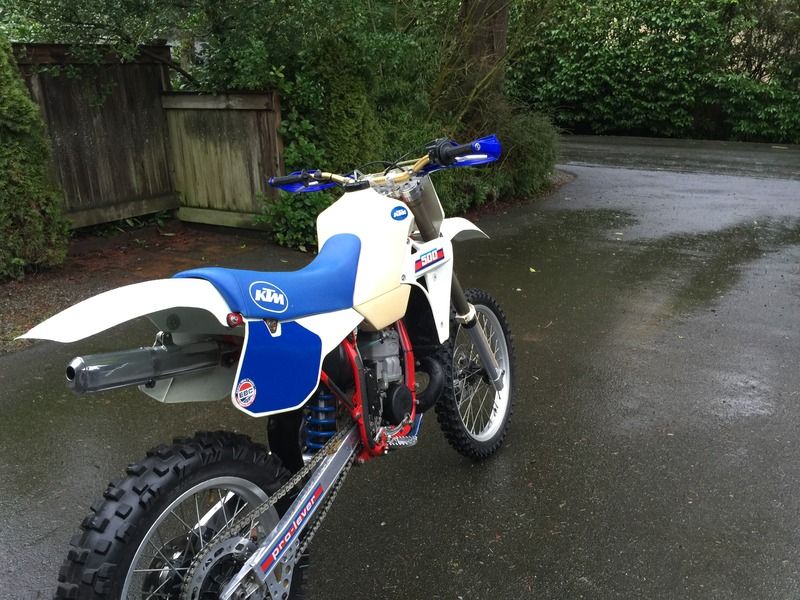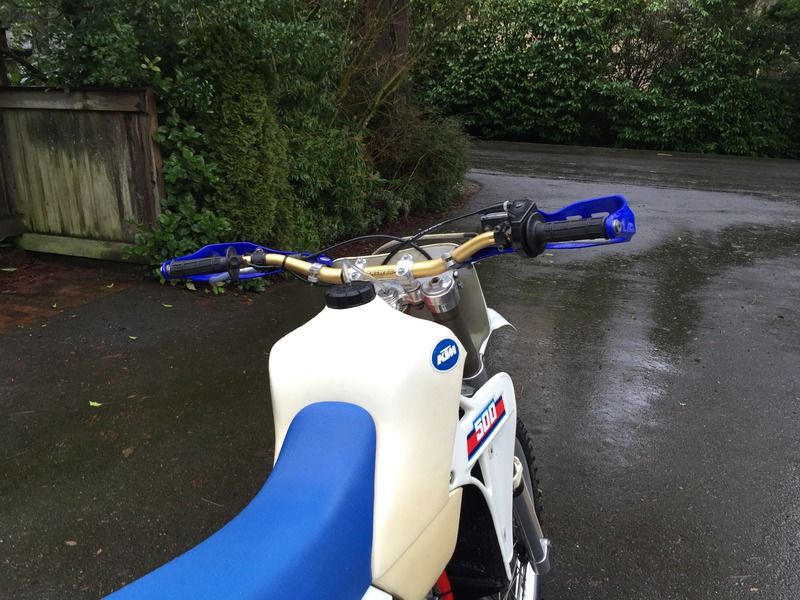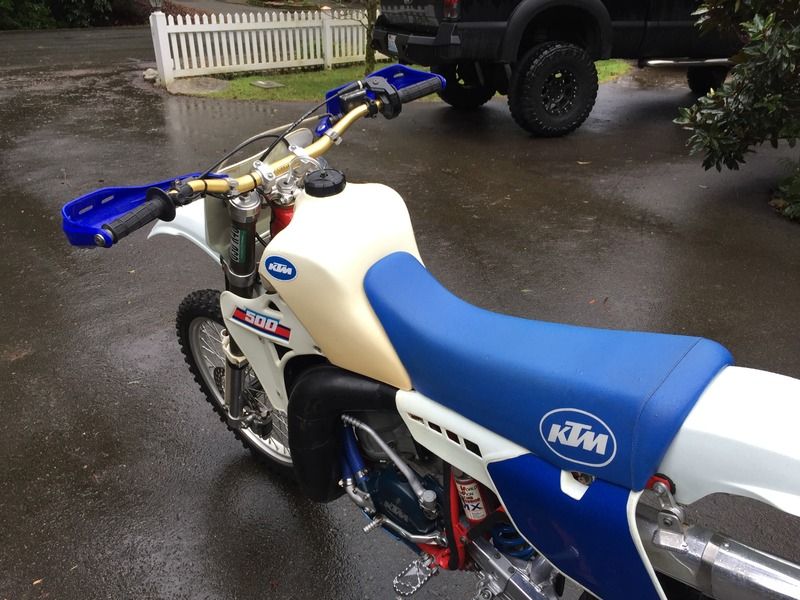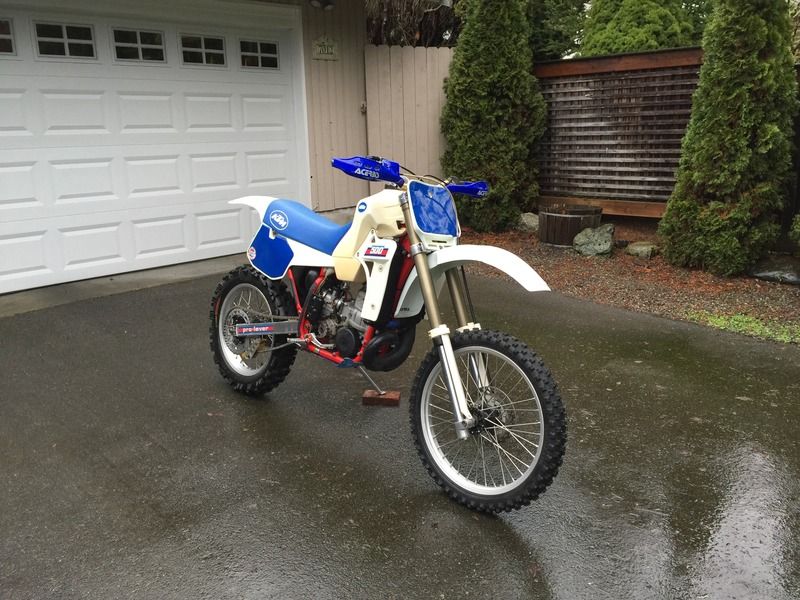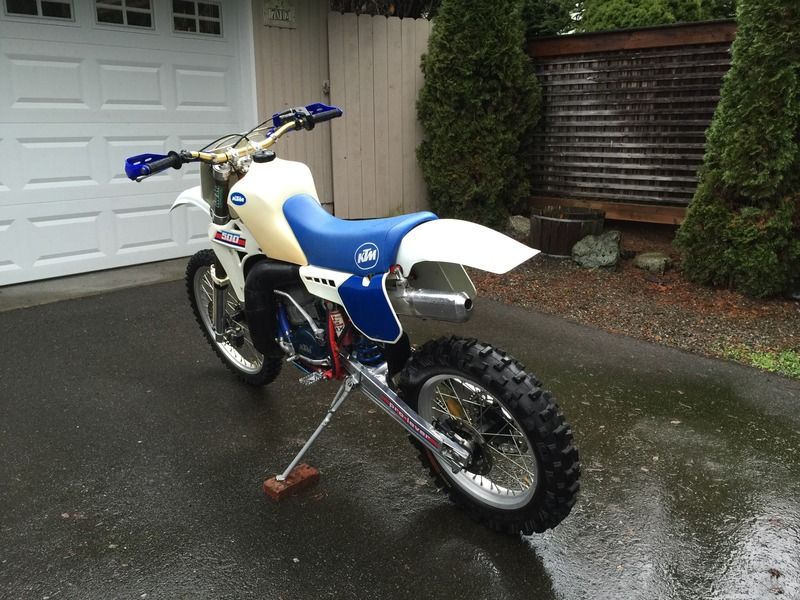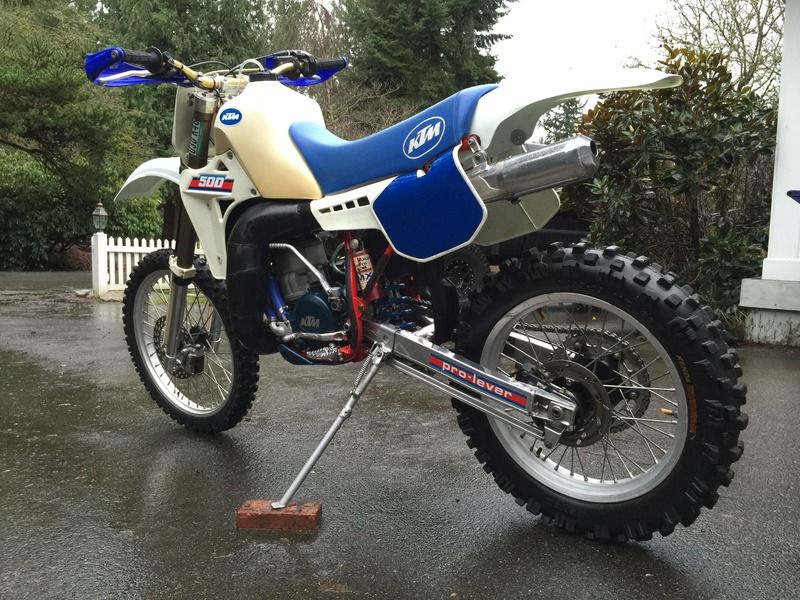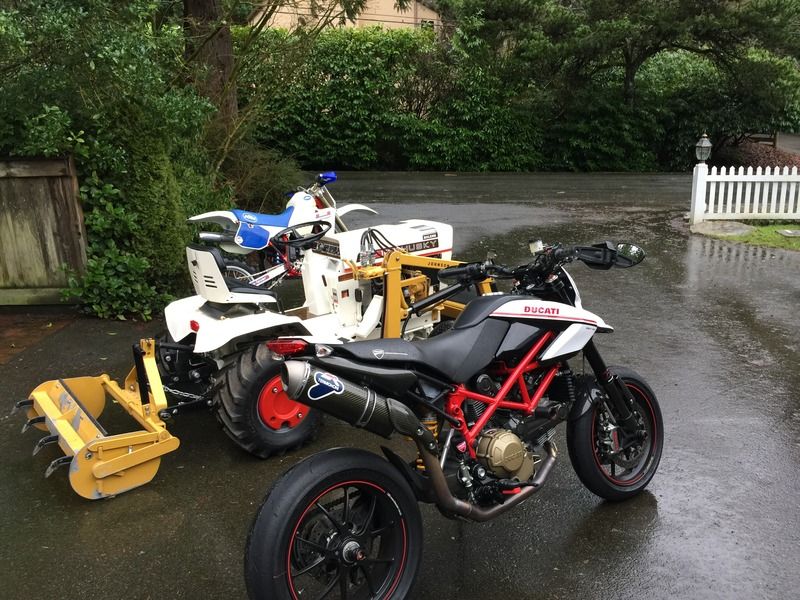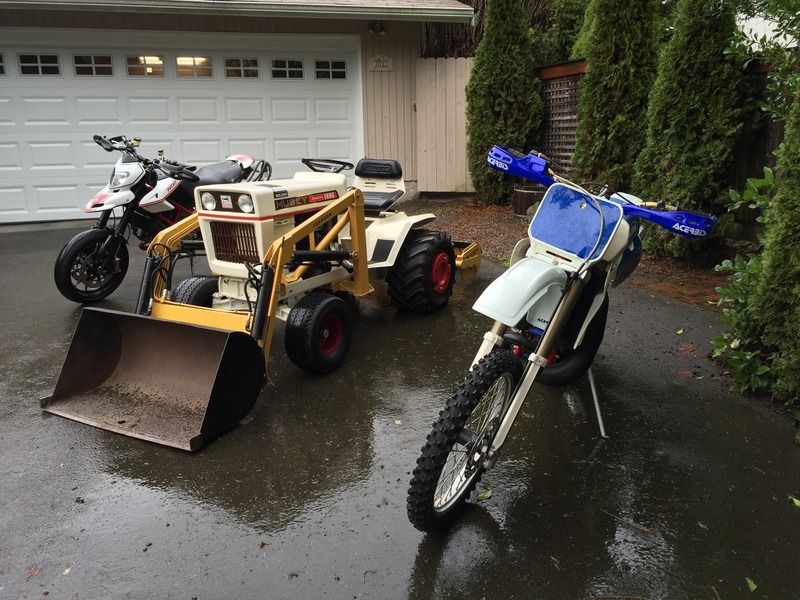 The Basics
When you first throw a leg over it you realize how light it is.
Really
light. If you're used to riding two strokes and the weight wasn't so noticeable, the hard and unforgiving seat instead will catch your attention. It is probably partly this way due to its age. The gas tank is large and sits up high in front of you, but is unusually quite narrow and slim on the sides like an MX bike. Flick the kick stand up and you wonder if you almost broke it because it feels very light by the way it went up. You definitely feel like you're on something that's retro by the lines of the tank and style of the plastics, but the ergonomics are not so far vintage that you feel like you're on something from the early 70's.
You work the controls a bit to get a acquainted with their positions. The bar is nice and flat (it's actually an aftermarket bar) with a very comfortable reach that doesn't feel anything out of the ordinary. The Magura throttle system is quite heavy in feel with strong return spring pressure. Magazine editors back in the day had complains that it and the front brake lever required too much muscle to operate and could cause fatigue after a while. The clutch lever on the other hand (literally) is light. You then attempt to work the rear brake but you find that your boot rolls off the peg instead as if the brake lever isn't even there. What? The rear brake lever is somewhat oddly mounted inboard with the bike so you have to actually position your boot up and to the left in order to fully activate it smoothly. It's not mounted directly in front of the peg like most bikes so you realize you better work it several times to become comfortable with its orientation.
Starting it
This is where it gets fun. Kicking this thing over is downright scary; plain and simple. The good news is that it does seem to want to start (some bikes just plain don't and will fight you until the end) but it seems to actually be working on your side to do so which is good. You can either use your left leg, unnaturally, to do it while on the tall seat, or, kick it with your right leg standing off the bike while trying to keep it from coming off the kickstand at the same time. Whatever nonconformist style you chose produces a low and fierce sounding "glug glug" as you turn it over that growls through the exhaust like the echoes the clown in the movie "IT" makes in the sewer pipes. Stories you read of folks having their calves shattered in half or legs broken quickly dance in your mind. You ask yourself "what if" and question if the risk is worth the reward. You press on the lever about 1/4 of the revolution down just until it goes over compression. The feeling is like the kick starter all of a sudden engages what feels like a stuck rock that simply won't budge any further. I use the analogy of a rock because that's exactly what it feels like once the lever comes into compression. When you kick over a big 4 stroke and you reach compression stroke, it will still often feel somewhat "rubbery" with a tiny bit of give at that point. This... notta. Nothing. Zilch. The motor might as well be locked up solid. Even when you put your entire body weight onto the lever it still will not even budge a millimeter or give you any indication that it will. At this point you say a prayer, and jump on it as if your life depended on it with the hope that the lever doesn't spring back up with enough force that could land you on the moon. If your best Hulk impression
still
did not move the lever one or both of two things will have happened; you either put a nice gouge in the tread of your boot and/or the bike almost fell over.
If you think bump starting this thing is a second option, think again. I initially tried this but unless you are a heavy weight, it wants lock up the tire when you let the clutch out... even in 5th gear.
If you were successful with the kicker, the lever will have gone half way down its revolution and your ears all of a sudden begin bleeding with a very rewarding joy. I felt like I had just won a gold in the national Olympics when I fired it for the first time. The sound of it is VERY loud. POP POP POP, BANG BANG BANG, CRACKLE CRACKLE CRACKLE. You almost need ear protection standing next to it when it idles it is that loud.
What is it like to ride?
To be honest, I had naively been wondering just how "powerful" it was going to feel next to modern day machines and thus preparing myself that it may not exactly what I had been envisioning. I was just going to enjoy for what it is. Boy, could I have ever been more wrong.
I don't think I could ever post enough of those "yikes" smilies to justify this bike. It is hands down the SCARIEST bike I have EVER ridden in my entire life. I used to review motorcycles for a part time job and have ridden varieties from all over the spectrum. Forget 1000cc+ liter bikes. The acceleration this thing has is pure insanity to the tenth degree. Violent. Pure i-n-s-a-n-i-t-y. I was shaking after my first ride on it as if I had just gotten out of a cold shower. I have not even gotten past a 1/4 throttle yet as the bike just wants to explode out from under you. I'd describe it like a stick of dynamite. Again, pure insanity. Insanity! You almost ride the clutch on this thing more than you're on the throttle. As you give it a hair of throttle input it takes off like you're going down a roller coaster. Basically if you give it any throttle it says "oh, you want a piece of me?" You let off the throttle but then you don't slow down at all because it has hardly any engine braking. You reach for the brakes and while the front works, you totally miss the rear because of the akward positioning that you still haven't mastered yet. You've got a lot other things on your mind at the moment so you can forgive yourself for that.
As you're riding, you quickly begin to notice the heat from the expansion chamber on the left side begin getting hot so you have to swing your leg out to not burn yourself. It's hot, there's no heat shield, and it's easy to bump your leg on it which I seemed to repeatedly do. Eventually I'll get the picture. Surprisingly it is smooth in the low end, then as the revs build the vibes begin to come. Unlike some of the other 500 open classers of the time, this one came with a heavy flywheel which helps mask vibrations.
I go back to the noise because it is a lot louder than I expected it to be. The exhaust has a factory spark arrestor so it's not like it's running an open pipe either. I was even a little concerned this thing might sound a little too plugged up and already considering options of having a custom muffler made. Turns out you need ear plugs to ride it as the "BANG BANG BANG" makes you think there's bottle rockets going off inside your helmet. When it idles it's nearly as loud as a 4 stroke single that is running straight out of the manifold with no exhaust system. It's ridiculous, every part of it!
It is by far the most absurd and scariest machine I have ever experienced in my life. I can only wonder what the heck would happen if you were to fully open the throttle. The bike would probably shoot out from under you doing multiple backwards somersaults until it eventually crashed into some trees in the next state. I now understand why these are called "widowmakers."
Now for the serious question... will I ever be able to start it again?