Recently, I had the opportunity to tour the headquarters of
ZERO Motorcycles
and with their permission, have some photos to share of where it all happens.
Location:
ZERO's headquarters lies just outside of Santa Cruz in Scotts Valley. This is where the bikes are built from the ground up and shipped to all over the world and where their offices are based from. I can't help but think they have some of the best proving grounds just outside their door in the Santa Cruz mountains.
Background:
The Triumph motorcycle dealership that I worked for part-time in Washington also sold ZERO. In the spring, ZERO visited our dealership during a promotional weekend called "ZERO Demo Days." I had the responsibility of being test ride leader who led groups at a time on rides. That was fund time of customer interaction and being able to put the bikes through their paces. At the time, the Director of U.S. Sales offered me a tour of the plant when I moved down here so I took him up on it.
When I arrived at headquarters, I was a few minutes early so while waiting in my truck I took notice of the choice of vehicle in the parking lot. Tesla seemed to be the norm when it came to four wheels, and around the perimeter of the building were charging stations. Many made were built specifically for motorcycles, naturally.
I also noticed the amount of police present that visited inside and that would be because ZERO sells quite of their market to police forces. When ZERO had visited the dealership, I had the opportunity to test ride a fully equipped police model with siren and lights- it was a blast!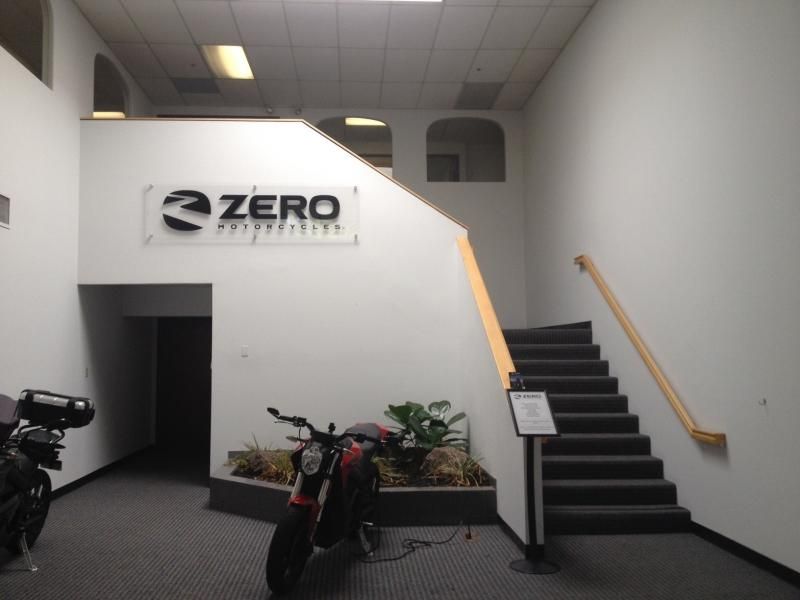 It was explained to me they are currently in an influx of expanding so currently a lot of their assembly stages are in transition.
Also, photography was pretty limited for understandable reasons so that is why there are not more photos. This is why it will also not seem like a complete tour.
On an average day, ten ZERO's are built. A very systematic process goes into which particular bikes are built and chosen. Nothing is at random in this stage and before the process begins, parts are pulled from a large parts room that is next to the assembly plant.
This machine is a fairly recent addition. It is built specifically to handle ABS braking systems as ZERO has now incorporated that design feature into their bikes. This machine was definitely a very complex looking piece of machinery that I would have never in a million years guessed was built for ABS systems.
Along each step of the process, the mechanical tools used are all preset to the specific torque specs that are required for each fastener to eliminate or lesson human error.
This is the battery testing facility- and one of the places that is currently in the process of being expanded. This is a pretty interesting place as each battery goes through a series of tests here. There is a water shower and also a sand bucket where the batteries are placed in to check for leaks.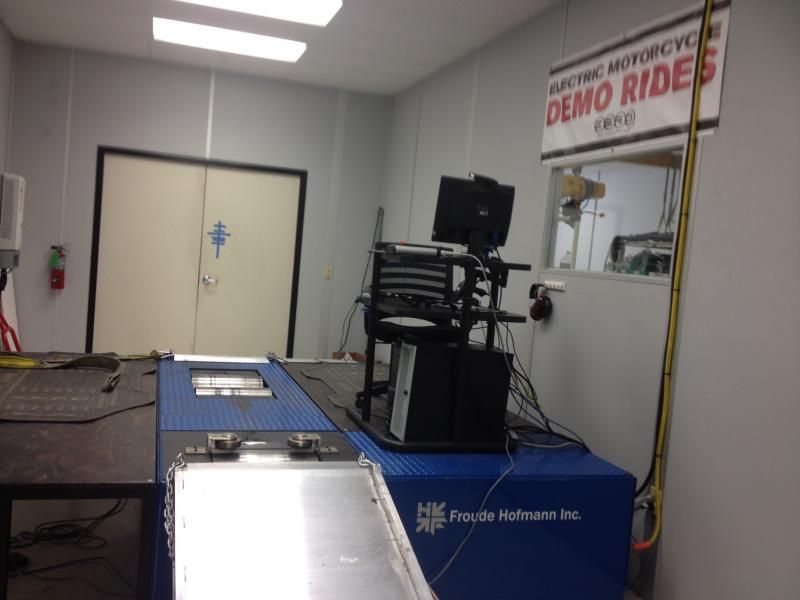 Each ZERO gets strapped to a dyno to be tested and confirmed that it is laying down the correct numbers. Something tells me that ear protection is not required in this dyno room!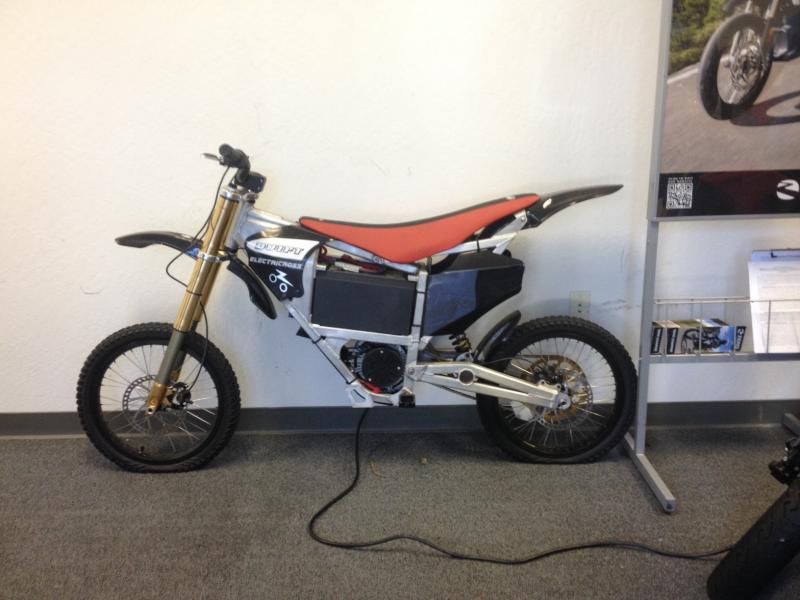 This would be the very first ZERO motorcycle ever built! Cool!!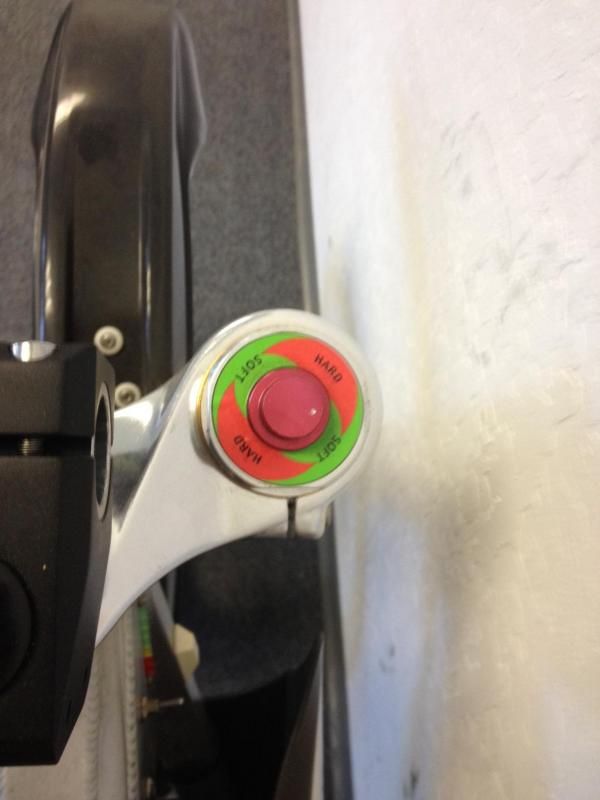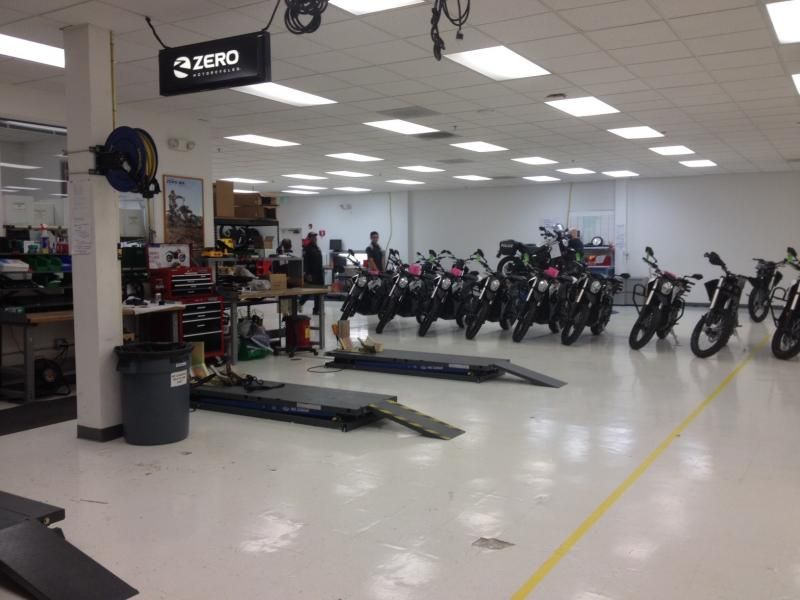 A row of police spec DS's.
Overall, it was a very interesting tour and place to visit. I had never visited a motorcycle plant before this made it even more fascinating. To paint a better picture due to the absence of photography, it felt like a factory in some ways. The equipment such as the ABS machine did not always resemble what I would imagine would be related to motorcycle production. I noticed that the workers, whether that be in the office or on the assembly line all seemed to be very enthusiastic about their jobs.
It has been truly amazing to see the advancement in ZERO's technology expand from year to year and experience it firsthand. The bikes they build today truly cannot compare in any way shape or form to the models they built just 4-5 years ago which has made them a true innovator and leader in their unique class.